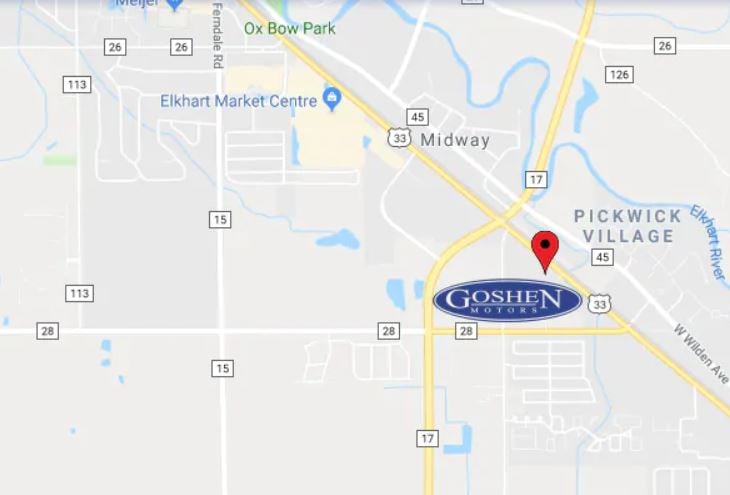 ​
Goshen Motors, located in Goshen Indiana, has a great selection of new vehicles from the Hyundai, GMC, and Buick brands, and if you're a Granger shopper we're more than happy to help you find your next car, truck, or SUV. We're about a 35-minute drive away from downtown Granger, and once you arrive at our location we can get you out on a test drive!
Hyundai
Our most well-stocked brand is Hyundai, and you're going to love these vehicles that have stylish aesthetics that look a class-above. Popular choices include the Hyundai Elantra sedan and the redesigned Hyundai Santa Fe (formerly known as the Santa Fe Sport) five-passenger crossover that is simply packed with features. Another perk is that Hyundai has some of the best warranties in the country, so you can feel great about your purchase when you drive back to your Granger garage.
GMC
If you're looking for something a little more rugged to ride around Granger in, go with the GMC brand. GMC only focuses on crossovers and trucks, so you'll love these more spacious options. For SUVS, the GMC Terrain is very popular and for trucks the GMC Sierra 1500 is a top pick with tow-focused shoppers who want performance as well as good looks.
Buick
In past years, Buick had a reputation for only being for retirees. Now, there's nothing wrong with that, but Buick wanted to expand their market, and they were able to do that by growing their lineup and offering more tech features. That said, Buick vehicles still have that stately and refined look. If you're a mature shopper (or even a young professional who shies away from overly youthful designs), the Buick lineup is a must see. Popular vehicles are the Buick Regal TourX wagon and the Buick Encore SUV. We'll help you find the right one that's ideal for your Granger commute.
We look forward to working with you and helping you find the right vehicle! You can also visit our which brand is right for me page to learn more about our Hyundai, GMC, and Buick offerings.